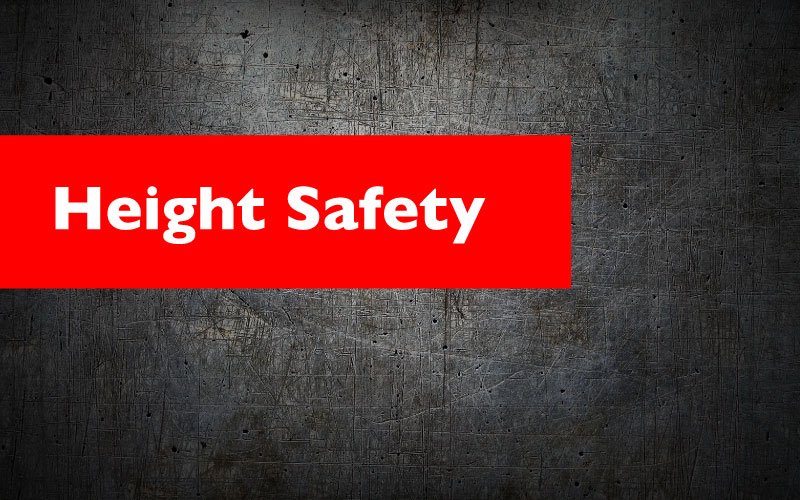 Roofing & Sheetmetal Centre can provide you with a range of height safety products to help you work safely when working on a roof, or using a ladder. Our range of safety equipment includes:
safety mesh
roofers harnesses and accessories
ladder brackets
roof anchor points
access hatches
All products are Australian made and compliant with Australian standards.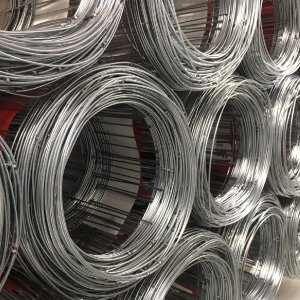 ROOF SAFETY MESH
Reduce risk of falls when working on roof. Safety mesh is compliant with safety standards.
Available in 50m length, 1800mm width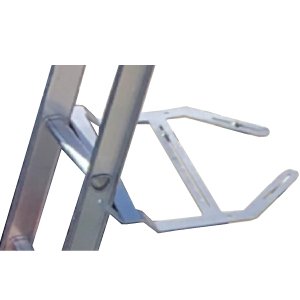 ACCESS LADDER BRACKET
ANKAme access ladder bracket attaches to all common roofing profiles and is suitable for temporary and permanent use. Comes with all fittings required and installation manual. Compliant with Australian standards.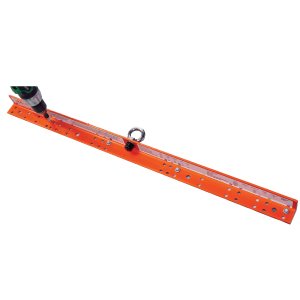 TEMPORARY ROOF ANCHOR
ANKAme temporary roof anchor works with Custom Orb, Trimdeck, Spandeck and Concrete Fix. Lightweight, easy installation and all fixings required.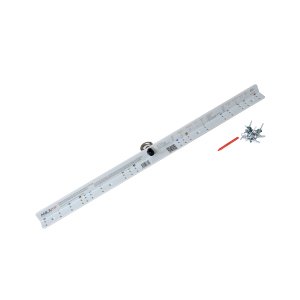 PERMANENT ROOF ANCHOR
Permanent ANKAme roof anchor complies with AS/NZS .
Aligns to roof screw pattern and profile.
Adapts to metal roof sheeting, Custom Orb, Trimdeck, Spandeck, Klip-Lok 700, Klip-Lok 500 and Concrete fix for the use of Free Fall Arrest Single Point Anchorage ( 15kN ).
Can be used as a static line system. Includes fastenings, owner's manual and installers tag. Colour coded installation instructions on each anchor.
PERMANENT ANCHOR FIX
(min. grade sheet thickness 0.42mm) with 1 x Bulb-tite 7.7mm x 27mm RV6605-9-6W fixed in sequence as indicated below.
To be installed and used by competent persons only.
USER INSPECTION & MAINTENANCE
It is a requirement that the roof anchor be inspected prior to each use, and must not be used if there are any defects, absent markings/ labelling, evidence of missing parts, or if the roof anchor has been used in a fall.
Also note:
Roof  anchor not to be used in a corrosive environment.
Temporary fix not to be used as a permanent anchor.
Permanent anchor to be used in the direction of eyebolt only.
Roof anchor to be used only where roof sheeting has been fully installed in accordance with manufacturers recommendations.
Roof sheeting profile can vary up to 5mm, inspect roof sheeting prior to installation of roof anchor.
Roof anchor to be cleaned regularly with a  damp cloth.
Complies with:
AS/NZS 1891.4: 2009
Single Point Anchorage (15Kn)
Complies with:
AS/NZS 1891.2: Suppliment 1:2001
Static Line Use (15Kn)
DISCLAIMER
By purchasing a PERMANENT ANKAme you are deemed to be a competent installer, or have contacted a competent installer, as the manufacturer and seller take no responsibility for the misuse of the products. Refer to owners manual installation instructions for the correct use of these items.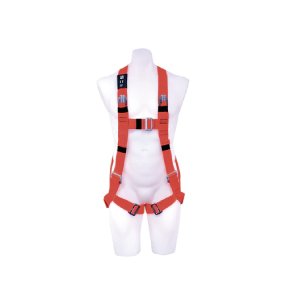 SAFETY HARNESS
Optimised positioning of front connection, lighter than shoulder Ds but small enough for efficient and safe connection of snap hooks for spreader bar insertion to confined spaces.
Documents pouch, keeps compliance labels and inspection record clean and intact.
 Manufactured, designed, tested and fully certified in Australia to AS/NZS1891.1
Adjustable chest D ring
Optimised stitch patterns
Adjustable size options
Rubber end grips
Optimised positioning of front connection
Front fall arrest D ring precise connection for front fall arrest applications
2 and 3 bar buckles
Elastic webbing keepers easy storage and housekeeping of excess adjustment webbing.
Large rear fall arrest D ring
Ergonomic pull up shoulder strap adjustment
Small D ring slider pad
Breathable mesh panel
Fitted with suspension trauma relief straps
Optimised buttock strap position and lock down stitch
Supplied in free storage bag keeps harness free of dirt and moisture.
20% lighter than previous models, reduces weight and fatigue leading to greater worker acceptance and compliance.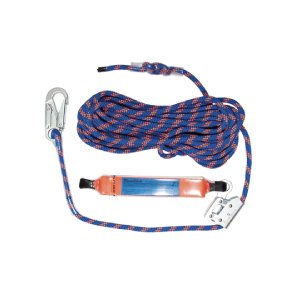 HARNESS ROPE (with grab, hook & shock absorber)
8 metres of Rope
Rope hook
Rope grab
Shock absorber
Shock Absorber
Tear web energy absorber
Heavy duty alloy steel fittings
Polyester webbing
Kernmantle Rescue standard rope
High tensile contrasted stitching
Stowage loops on all twin lanyards
Rope Features
Available in custom lengths if required
Compact, lightweight and easy to use
Single person up to 140kg fall arrest rated
Rope conforms to AS/NZS4142.3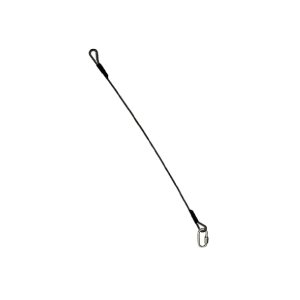 WIRE STROP 1.3m
Black PVC 6/8.2mm 7×19 SS316

8mm Quick Link marked with batch no. and 20 kN.

With BW Thimbles, one end marked with batch no.
The ANKAme Wire Strop is an 8mm stainless steel cable with roll swaged eyelets containing thimbles, and a plastic sleeve over the entire cable to prevent scratching of roof coatings.
The strop comes complete with a Maillon (Quick-link) connector.
Rating: 15kN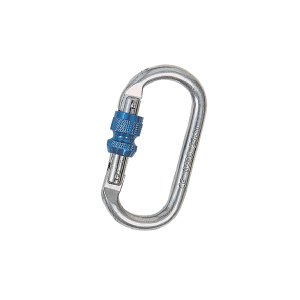 KARABINER
15 kN Karabiner
Steel
Oval Screwgate
With a lightweight, ergonomic design and secure screwgate sleeve, this versatile Screwgate Karabiner is the ideal choice for everything from belaying to anchor building. The easy-clipping keylock nose won't catch on bolts and slings, while it's strong lightweight construction allows for a streamlined shape that reduces weight and bulk.
Hot-forged construction
Keylock nose doesn't snag
Easy-to-hold functional shape
Screwgate sleeve Karabiner
kN Rating
All carabiners come with a kN, or kiloNewton rating engraved into the spine. If you have carabiners without a kN rating DO NOT use them for climbing! A kiloNewton is equal to about 225 lbs., which is a force of gravity rating, not static weight or mass.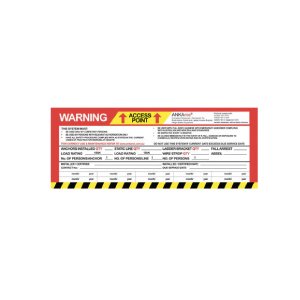 HEIGHT SAFETY COMPLIANCE PLATE (Wall or Roof Mounted)
5mm thick Aluminium plate

8mm diameter holes in each side of plate 

UV protective with a Vinyl finish for writing quantity of height safety products as installed.

Compatible

with all concrete or masonry walls and all common metal roofing materials (not compatible with stainless steel, copper or lead).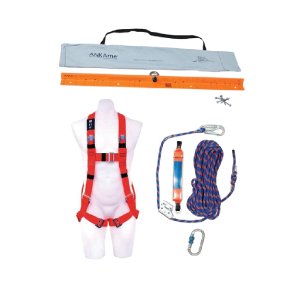 Roofers Kit
Temporary Roof Anchor

Roofers Harness

Harness rope, grab, hook, shock absorber

Steel Karabiner
ANKAme fully compliant temporary roof anchor point, tested & approved by a division of SafeWork NSW  Certificate of Test Report Roof anchor aligns to the roof screw pattern and profiles of the x3 most common types of metal roof sheeting &        ( Custom orb / Trim-Deck / Spandeck ) and concrete application )All products can be installed and used by any competent person, tradie or DIY, as per AS/NZS & user manual providedSpanset spectra body roof worker harness comes with d-rings fitted front & rear of harnessSpanset harness rope, inbuilt shock absorber, rope grab & end connector hookSimple installation & use method
When planning fall prevention strategies in the workplace, roof access hatches should be considered as a way of providing safe roof access, particularly in large commercial and industrial buildings. Our range of hatches can cater for many different site requirements, and can be custom made to your specifications.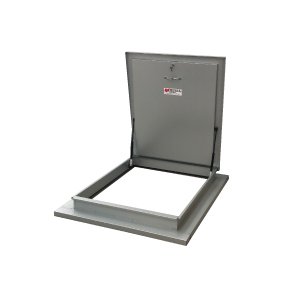 Roof Access Hatch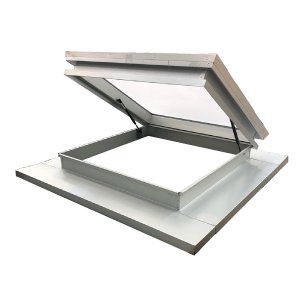 Skylight Hatch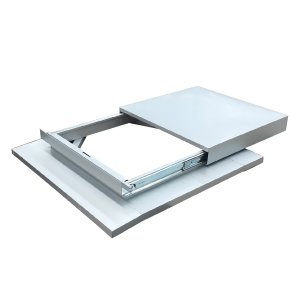 Sliding Hatch