RAINHEADS
Square and rectangular rainheads are made with Zincalume®Steel or Colorbond® Steel, and come either with a bead around top, or flattened.
ROOF PENETRATIONS
Roof penetrations are manufactured in variety of sizes and are round, square and rectangle.  Can be made with 0-15 degree pitch, or 15-30 degree pitch.  Roof penetrations are made with Zincalume® and Colorbond® Steel and can be customised.
SUMPS, POPS & OVERFLOWS
Sumps are installed in box gutters to allow rainwater to build up at points of discharge. Sumps need an outlet (usually called a pop) to help get the water to the downpipe and then to the storm water system
Our standard sumps are 300mm x 300mm x 100mm, however we make a range of sumps to your specifications.  Sumps are made from Stainless Steel, Zincalume® Steel and Colorbond®.
DOWNPIPES, OFFSETS & GUTTERS
We can supply all of your Colorbond® downpipes, downpipe offsets and guttering requirements, so you can get all your roofing options in the one order.
BOX GUTTERS & STOP ENDS
We manufacture box gutters and box gutter stop ends according to your requirements using hard wearing products Stainless Steel, Zincalume® or Colorbond®.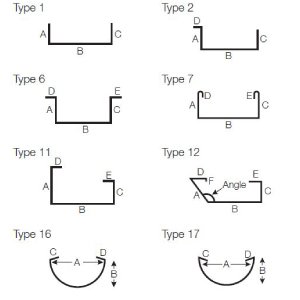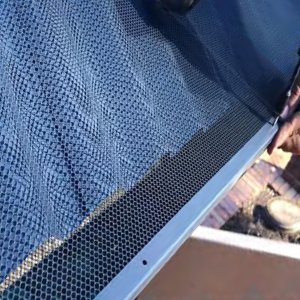 GUTTER MESH
Roofing & Sheetmetal Centre supplies gutter mesh that can be installed over gutters, preventing debris build up.
Features include:
Available in aluminium, poly and emberguard
Solutions available for bushfire compliance, coastal resilience, or water filtration
Match to any roof in up to 22 Colorbond® colours.
Mesh available in a range of widths purchased by the metre
Installation kits available including mesh, saddle clips, screws and trims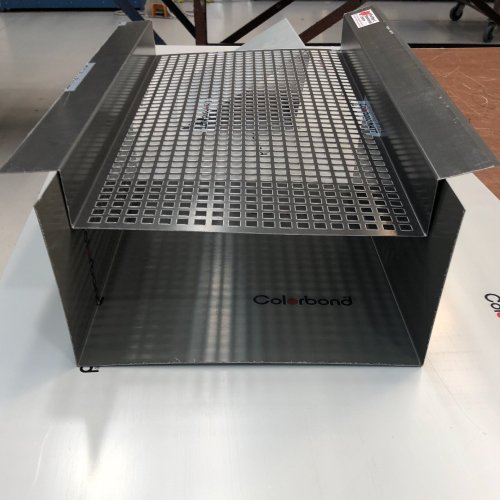 GUTTER GUARDS
Why not make installing gutter guards part of your roofing solution? It can save your customer money and the need for future maintenance. RSC Gutter Guards can prevent the need for costly repairs from water damage caused by blocked gutters and downpipe or winter hail storms.
Our gutter guards are custom made from Australian steel and can be punched in 10mm square, 30mm x 5mm or 10mm radius filtered patterns. Ask us about other options including Zincalume® or Colorbond®, stainless steel, copper or aluminium.